Photo from Notey.com
By Jen Cooper
Listicles Editor
As much as I complain about  being a broke college student, I admit that I have been known to indulge in some pretty pricey makeup. Sephora is my heaven and everyone has something that they'll blow a ton on, but maybe you should take at look at the cruelty-free brands if you're going to spend a ton. These products are totally worth their price tag!
1) Kat Von D Tattoo Liner: $20
Photo from beautygrail.com
This little magician creates the perfect wing look with total control. It's also waterproof but isn't impossible to get off with makeup remover. Bonus: Kat Von D products are all cruelty free AND vegan.
2) Anastasia Beverly Hills Modern Renaissance Palette: $42
Photo from Beauty Point of View
This palette has colors for all skin tones because of the variety of undertones for each pan. This is a pretty cheap palette for such pigmented shadows! The brush it comes with is even wonderful: I use the poofy end for my crease and the other end for pretty much everywhere else!
3) Too Faced Better than Sex Mascara: $23
Photo from Sephora.com
This name might be debatable but the quality of mascara speaks for itself. It comes in waterproof too, which is what I go for. Lashes become impossibly longer and it also makes them defined without the wand making a mess!
4) Urban Decay All-Nighter Setting Spray: $31
Photo from pinterest.com
This little baby may seem like a lot but if you don't want to blow that much on it, they have travel sizes that are cheaper! The setting spray keeps your whole face on all night and comes in a de-slick version in case your skin is more oily. The mini version has lasted me months on end.
5) NARS Radiant Creamy Concealer: $30
Photo from sephora.com
All NARS products are always expensive but (nearly) always worth it. However, if you're going to pick one to splurge on, it should be this beautiful and magical concealer. It stays on for day and night looks, and blurs imperfections. It's also very blendable with any foundation or on its own.
6) Anastasia Beverly Hills Dipbrow Pomade: $18
Photo from allure.com
A lot of brow stuff doesn't turn out right on my pale and wispy blonde eyebrows but ABH Dipbrow in Taupe makes mine look fierce. Depending on the brush you use, you can make little strokes to make brows natural or make them pop with a bigger brush. It also stays in all day and has a great texture for brows.
7) BECCA Shimmering Skin Perfector Highlighter: $38
Photo from Pinterest.com
So this one even seemed a little pricey to me but if you love highlighter as much as I do, this hyper-pigmented item is worth the cost. There are different highlighter shades for different skin tones but these are sure to always make your cheek or brow bones pop.
8) Kat Von D Everlasting Liquid Lipstick: $20
Photo from Sephora.com
The biggest caveat with this liquid lipstick is that you either love it or hate it. It's so matte to the point where it will dry your lips if you don't put chap stick on, but it also stays and will likely NEVER smudge. They also come in a slew of beautiful colors.
9) Smashbox Iconic Photo Finish Foundation Primer: $16
Photo from Sephora.com
With this baby, your makeup will stay on all day without getting oily, creased or runny. Photo Finish Primer also comes in a variety of skin-catered specifics like pore-minimizing, light, radiance and blemish control. A little bit goes a long way with this product.
10) Urban Decay 24/7 Glide-on Eye Pencil: $20
Photo from macys.com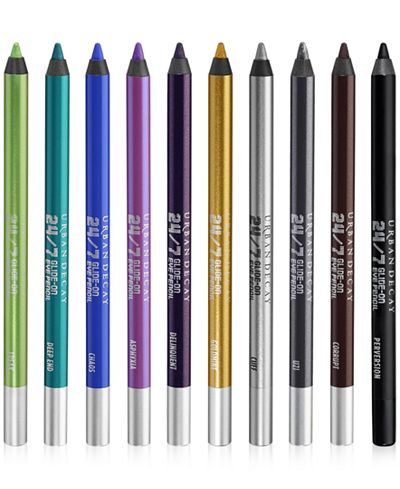 This super-pigmented liner comes in a variety of funky colors. It also quite literally glides on like a dream, but isn't a pain to take off at night. They also are worth it because they last for so long without running.
Some of these products are wallet-busters, but let's be honest, there's nothing better to bust your wallet on!